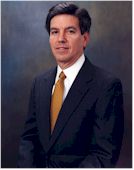 Michael Doyle – Managing Director

Mike has been the Managing Director of Goldin Ventures since its inception in 2007 after an extensive and successful career as an entrepreneur.

Prior to Goldin Ventures, Mike was President of Eastern Research, a telecom equipment company. This business was a subsidiary of Allen Organ Company, a company the family started in 1945. Eastern Research grew dramatically from 1997 when Mike joined, until its sale in 2006.

Mike serves on the Board of Directors for several of our portfolio companies.